Current Situation from FloridaDisaster.org
Mostly Dry Statewide with Only Isolated Showers Possible...Heat Index Values In The 100-106 Degree Range For Many Areas Of The State...Moderate Risk of Rip Currents Along Southeast Florida Beaches...A Tropical Wave Off The West Coast of Africa Has A 40% Chance Of Development Over Next Five Days...
Updated 8:50 A.M. EDT Thursday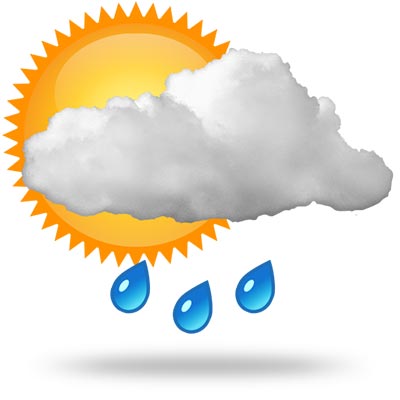 Low rain chances with hot temperatures are expected statewide as high pressure dominates the state. Showers and a few storms will affect the Keys throughout the day, but any isolated showers across the mainland should hold off until after noon and dissipate around sunset.
The heat will be the main concern as daytime high temperatures reach the upper 80s to upper 90s, resulting in heat index values in the 99-106 degree range for multiple hours this afternoon statewide. Heat is one of the leading weather-related killers in the United States, resulting in hundreds of fatalities each year and even more heat-related illnesses. To stay safe from heat related illnesses, limit strenuous outdoor activities, wear lightweight and light-colored clothing, stay hydrated and take frequent breaks in the shade as much as possible. NEVER leave children, persons with disabilities or pets in a car without an adult. Leaving the windows slightly open does not significantly decrease the heating rate. The phrase "Look Before You Lock" could save lives. Tonight, expect mostly clear skies with mild lows in the mid 70s to low 80s.
Southeast winds of 10-15mph will result in a moderate risk of rip currents along Southeast Florida beaches today. A low risk of rip currents is expected for all other beaches in Florida. Rip currents can still occur on low risk days. Beach goers are urged to check with local beach rescue for the latest surf conditions and to always swim within sight of a lifeguard.
A tropical wave in the far eastern Atlantic near the Cape Verde Islands is being monitored for possible development during the next few days while it moves westward at 10 to 15 mph. However, environmental conditions are expected to become less conducive for development early next week when the system is over the central tropical Atlantic Ocean. As a result, the formation chance through 5 days is currently at 40 percent. For more information from the National Hurricane Center, click here.
Florida's ESF-18 is committed to engaging the private sector in disaster response.
The State's response effort is initiated through the State Emergency Response Team (SERT), which is comprised of Governor-appointed Emergency Coordination Officers (ECO) from State agencies and volunteer organizations. Emergency Support Function (ESF) 18 Business, Industry, and Economic Stabilization integrates disaster response with private sector organizations. ESF 18 coordinates local, state and federal agency actions that provide immediate and short-term assistance for the private sector. Further, ESF 18 works with business and industry to identify available resources to meet the needs of the State and its citizens.
Working together to ensure that Florida is prepared to respond to emergencies, recover from them, and mitigate against their impacts.

Mission of SERT and the Florida Division of Emergency Management